[< Précédente 2 3 4 5 6 7 8 Suivante >]

Retour au Top des photos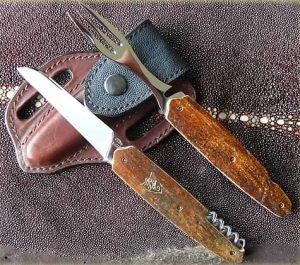 pour agrandir l'image, veuillez cliquer dessus


Le Couvert de l Â'Honnete Homme





Couteau pliant (fourchette, lame, tire-bouchon inox).
Fermé 11 cm , ouvert 20cm.
Manche ivoire de mammouth avec écusson en or gravé aux initiales.
La fourchette repliée, verrouille l'ensemble.


The "Honest Man" Cutlery Set
Folding knife (stainless steel fork, blade and bottle opener).
11 cm closed, 20cm opened.
Mammouth ivory handle with gold plaque engraved with initials.
The fork, once folded, locks all items together.

[< Précédente 2 3 4 5 6 7 8 Suivante >]